Black History Month has arrived, so the Global Grind staff comes bearing gifts. There are countless films to choose from these days, but this month we urge you to "watch Black." Check out our 'What to Watch: Black History Month Edition' list inside.
We are still enjoying the cozy winter season at home with our favorite movies. With several streaming platforms to choose from and movies returning to theaters, we understand how overwhelming it's become to choose what to watch. The staff is making you and your family's life a little simpler with a list of 7 films to enjoy from Black filmmakers and talent this month.
News that AMC theaters is raising prices for its "prime seats" and lowering the price of its "worst seats" is reason enough to never leave your home again for a germ-filled movie theater. In much better news, the films featured on this list can be enjoyed from the comfort of your own home.
Whether you are looking for a comedy filled with nostalgia like House Party or you'd rather a new and thrilling film like Missing, we have a movie for you. This list is comprised of our top 7 new films for the month, but there are many other films fans can explore throughout Black History Month that came out in the past. From documentary feature length projects to hour long scripted films, fans can get lost in the fantasy or the hard facts about Black people's rollercoaster of history through pain and triumph.
We chose films that will keep you uplifted throughout the month of February.
Check out a few of our favorites that will bring you more joy and healing this Black History Month:
1. House Party

Source:YouTube
It's about aspiring club promoters and best buds Damon and Kevin are barely keeping things together. Out of money, down on their luck and about to lose the roofs over their heads—and freshly fired from their low-lift jobs as house cleaners—the pair needs a huge windfall to make their problems go away. In a 'what the hell?' move, they decide to host the party of the year at an exclusive mansion, the site of their last cleaning job, which just happens to belong to none other than LeBron James. No permission? No problem. What could go wrong?
Out now in theaters and HBO Max. 
2. Missing

Source:YouTube
The drama and thriller film is about a mother disappearing while on vacation in Colombia with her new boyfriend, while June's search for answers is hindered by international red tape. Stuck thousands of miles away in Los Angeles, June creatively uses all the latest technology at her fingertips to try and find her before it's too late. But as she digs deeper, her digital sleuthing raises more questions than answers… and when June unravels secrets about her mom, she discovers that the true danger to her family is much closer to home.
Out now in theaters and Prime Video.
3. The Drop

Source:YouTube
The Drop is comedy which features Jermaine Fowler and Robin There. In this clever cringe comedy, a seemingly happy married couple confronts a test of their marriage when one of them drops a baby while at a destination wedding at a tropical island.
Stream now on Hulu.
4. A Lot of Nothing

Source:YouTube
The newly-released thriller follows an upper middle class married couple find their lives spiraling out of control when they decide to take justice into their own hands and seek retribution against their neighbor.
Out now in theaters and several options to purchase and watch online.
5. You People

Source:YouTube
A new couple and their families reckon with modern love amid culture clashes, societal expectations and generational differences. The movie stars Jonah Hill, Lauren London, Eddie Murphy and Nia Long.
Stream now on Netflix.
6. Mars One

Source:YouTube
The Martins family are optimistic dreamers, quietly leading their lives in the margins of a major Brazilian city following the disappointing inauguration of a far-right extremist president. A lower-middle-class Black family, they feel the strain of their new reality as the political dust settles. Tércia, the mother, reinterprets her world after an unexpected encounter leaves her wondering if she's cursed. Her husband, Wellington, puts all of his hopes into the soccer career of their son, Deivinho, who reluctantly follows his father's ambitions despite secretly aspiring to study astrophysics and colonize Mars. Meanwhile, their older daughter, Eunice, falls in love with a free-spirited young woman and ponders whether it's time to leave home.
Stream now on Netflix. 
7. Three Ways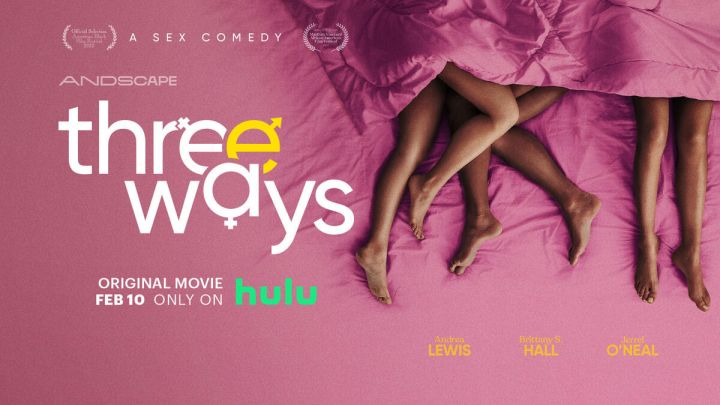 Source:hulu
A sex comedy told in three ways…
Sexually awkward Stacey Johnson decides to take control of her life, cancel her ex, and conquer her fears by having a threesome with her new beau and a mysterious woman she's never met. What could possibly go wrong?
Streaming on Hulu Feb. 10.