Prime Video's thriller series "Swarm" has fans in a chokehold. Several viewers are sharing their honest reactions to the new show, which highlights "stan" culture and its many repercussions. We were thrilled to binge the entire season from start to finish. One of our favorite takeaways from the series are the many notable guest stars involved in the short seven episode pilot season. Check out a gallery of our favorites inside.
The beloved series stars Dominique Fishback, Chloë Bailey, and Damson Idris. Though these stars carry the Donald Glover and Janine Nabers show, it's the other recognizable guest stars that add a special flair to the genius series. Famed actors and performers like Cree Summer, Billie Eilish, Kiersey Clemons, Paris Jackson and Leon appear briefly throughout the season.
Their performances elevated the already intense series, which follows an obsessed, Houston-based fan named Dre (Fishback), who goes to increasingly violent lengths for her favorite R&B singer. The show is said to be inspired by mega star Beyoncé and her crew of loyal fans know as the Beyhive. "Swarm's" famous singer Ni'Jah shares many characteristics with the singer. They're both from Houston, have oddly similar visuals and an army of fans that are willing to do absolutely anything for them.
The context of the show is already crazy enough, and the writing is excellent. Still, the casting alongside a talented Dominique Fishback is what sets the show up for major success. Everyone played their part and played it well.
Check out a gallery of our favorite "Swarm" guest stars below:
1. Billie Eilish as "Eva"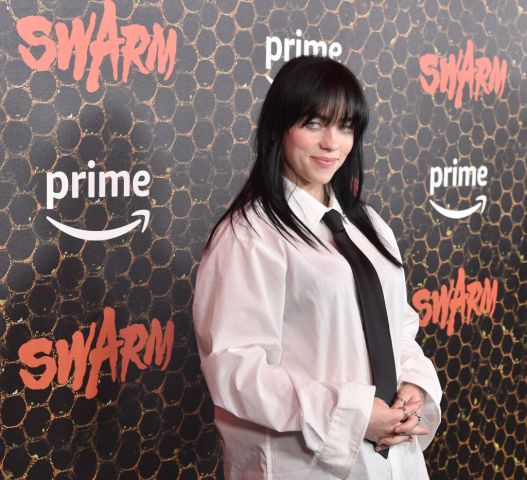 Source:Getty
Most fans know Billie as the singer-songwriter responsible for hits like "Bad Guy," and "Therefore I Am" and the James Bond theme song "No Time To Die." Though she has appeared in her own concert film, Happier Than Ever, and an Apple TV+ documentary about her life called The World's A Little Blurry, "Swarm" is her debut acting role. In the show, Eilish plays Eva, a cult leader who attempts to take Dre under her wing.
She slays.
2. Kiersey Clemons as "Rashida"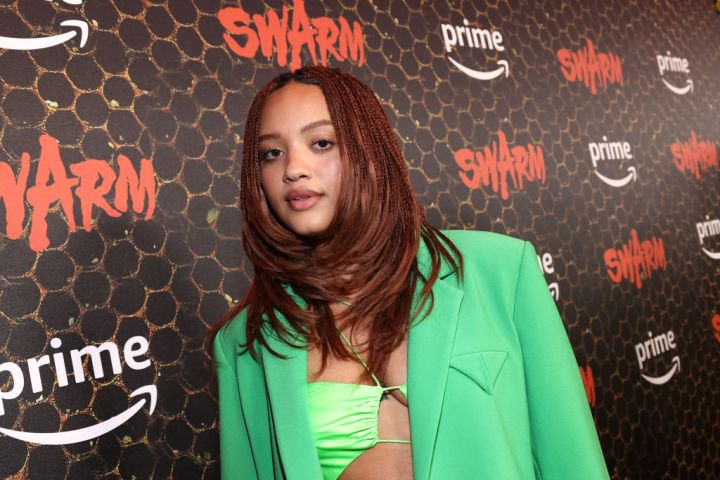 Source:Getty
Clemons got her start in the Disney Channel series "Austin & Ally." Since, the 29 year old has also starred in Transparent, Easy, and Eye Candy.
In "Swarm," she portrays Rashida, who meets Dre in the final episode. Dre starts going by the name Tony, who's strapped for cash and reveals very little about her past. Still, Rashida falls in love and the pair seem to make each other very happy… until Rashida says the wrong thing to her.
3. Leon as "Harris"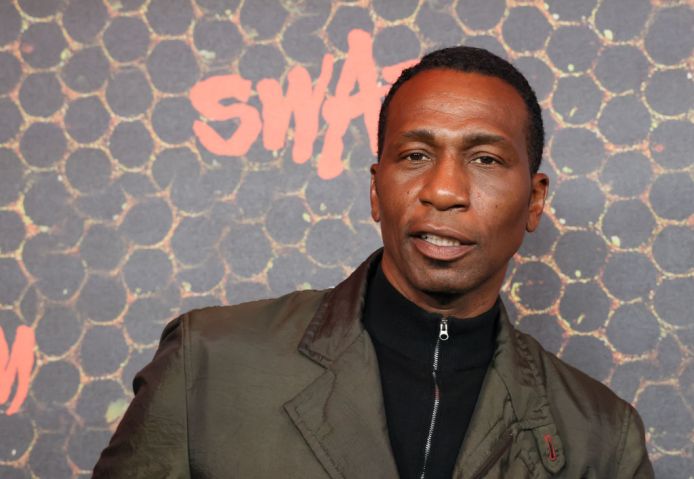 Source:Getty
Leon has had our hearts since his early film days. He has given notable performances in '90s cult classic films like The Five Heartbeats, Cool Runnings and Above the Rim. Leon has been virtually quiet the last few years, so his appearance in the series came as a happy surprise for loyal fans. 
The actor skillfully portrays Harris, Marissa's dad who also had taken in Dre when she was a teenager. One thing about Leon is he's going to act his a** off, and that he did. 
4. Paris Jackson as "Hailey/Halsey"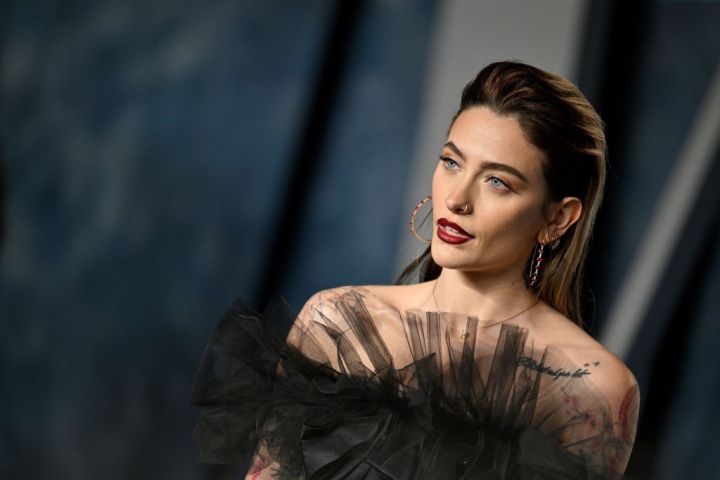 Source:Getty
Paris Jackson portrays Hailey, whose stage name is Halsey because she's one quarter Black. The jokes just write themselves for real. She's a stripper Dre meets during her time in Tennessee. After the two become friends, Dre takes it upon herself to kill Hailey's abusive boyfriend, but Hailey doesn't realize her times coming soon. 
Jackson is best known as the daughter of pop superstar Michael Jackson, but she has been making a name for herself as an actress for the past five years. She made her debut on the series "Star," and has since appeared in "American Horror Stories," "Habit," and the Hulu original film Sex Appeal.
5. Cree Summer as "Rashida's Mom"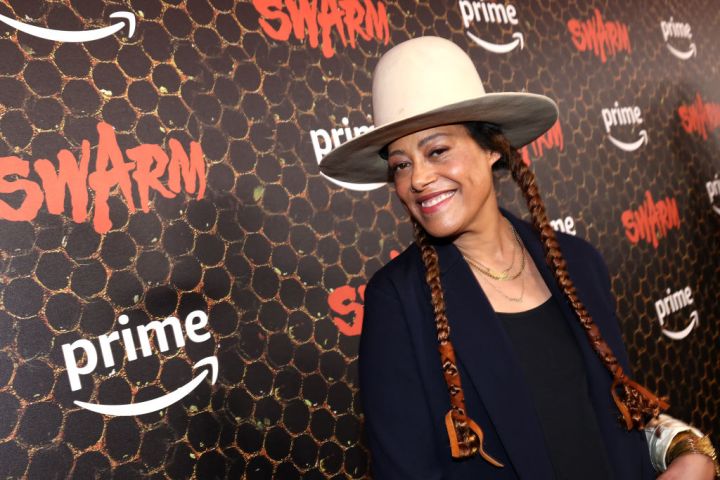 Source:Getty
The gifted actress Cree Summer stole our hearts in the '90s as Freddie on "A Different World." She eventually took the voice over game by storm, portraying several beloved cartoon characters like Susie Carmichael on Nickelodeon's "Rugrats." 
Since then, she appeared in the last season of Glover's critically acclaimed show "Atlanta." Now, she appears in the Glover universe for another hit series. This time she portrays a loving mom to Clemons' character Rashida. 
6. Nirine S. Brown as "Ni'Jah"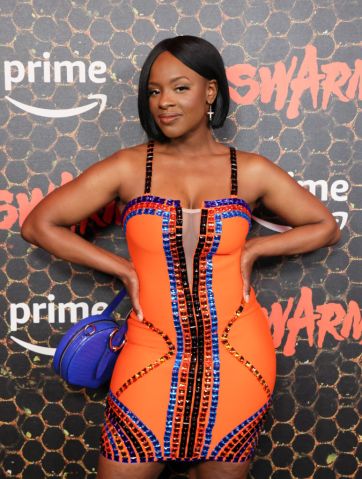 Source:Getty
Brown portrays Ni'Jah, who is the 26-time Grammy Award-winning, platinum-selling artist, mother of twins, and Houston native in the "Swarm" series. 
Nirine S. Brown appeared in the Tyler Perry series "Ruthless" on BET+. She has also made a guest appearance on "Abbott Elementary."
7. Heather Simms as "Detective Loretta Greene"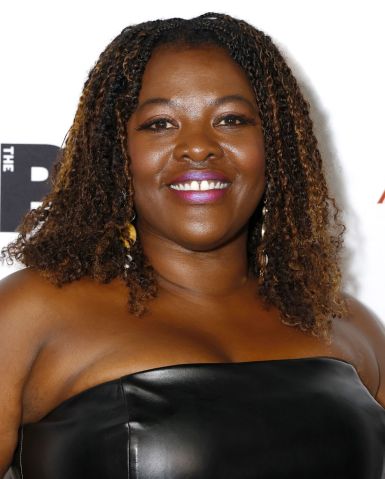 Source:Getty
Heather Simms portrays Detective Loretta Greene, who seems to be the one person who can piece together the fact that all of these killings might actually tie back to the same person. Appearing in episode 6, she appears to be in a true-crime documentary-style show where she reveals the many clues that have led her to believe that all of the recent murders were committed by a Ni'Jah superfan.
Greene is a New York actress who has appeared in many Broadway shows, and has also starred in Netflix's "Luke Cage," and OWN Network's "The Kings of Napa."