Victoria Monét is so deep in her bag like a grandma with a peppermint. The singer and songwriter's new album Jaguar II dropped and the rising star celebrated with a star-studded album release party sponsored by Tres Generaciones Tequila. Check out photos from the event and see who showed up to support Monét inside.
Last Friday (Aug. 25), Monét celebrated the release of her second album Jaguar II. The leading single, "On My Mama," has created quite the stir online. With a Sean Bankhead choreographed music video, Y2K aesthetics and pop culture references galore, the visual and song appears to be the perfect stage to kick off her album rollout.
Many celebrities filed in at La Mesa in Los Angeles with Tres Generaciones Tequila in hand to celebrate Monét's epic release. The star-studded list of guests came out to honor Victoria included Cardi B, Kelly Rowland, Shenseea, JoJo, Lucky Daye, Quinta Brunson, Ella Mai, Smino, Tank and more. Guests enjoyed Tres Generaciones cocktails and beats by DJ Fanny Mae.
Victoria is just getting started with the debut of her second album Jaguar II. Fans have enjoyed getting to know the soon to be mega superstar. As she continues to release more new music, Monét also brings fans along with her on her journey through motherhood. She occasionally releases social media videos of her, her partner and their baby girl Hazel.
1. Victoria Monét's 'Jaguar II' Album Release Party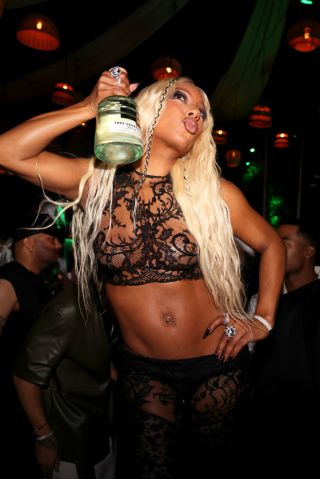 Source:Getty
2. Victoria Monét & Cardi B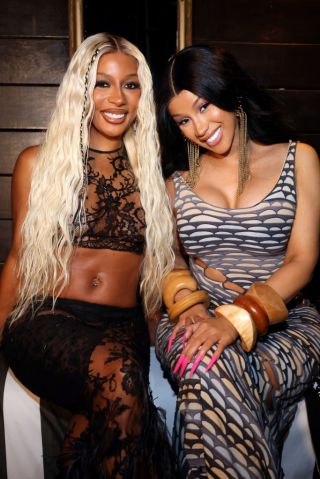 Source:Getty
3. All Smiles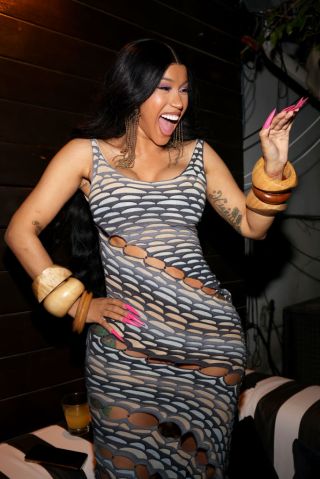 Source:Getty
4. Quinta Brunson Stepped Out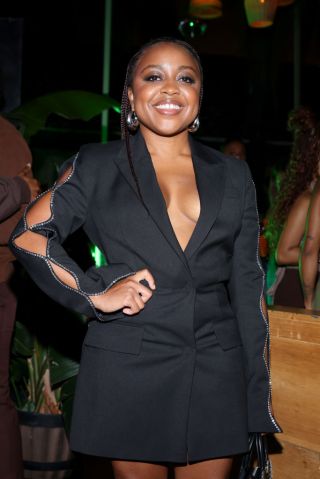 Source:Getty
5. The Fabulous Kelly Rowland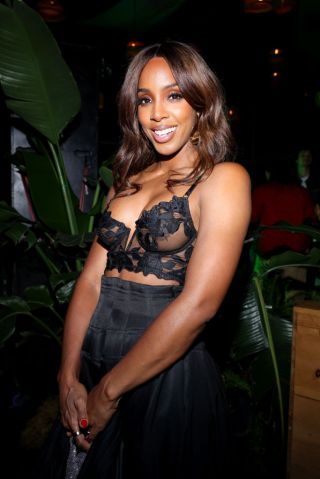 Source:Getty
6. Gang's All Here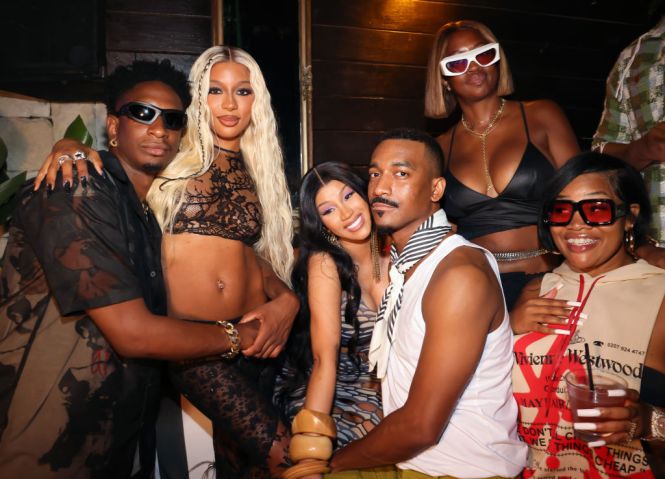 Source:Getty
7. Smino With The Night's Sponsor Tres Generaciones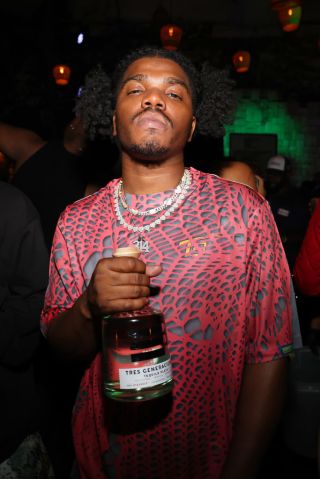 Source:Getty
8. The Vibes Were Immaculate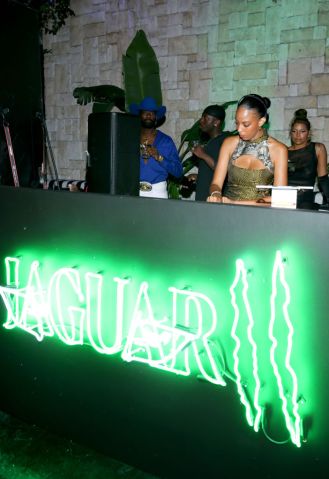 Source:Getty
9. Girlsss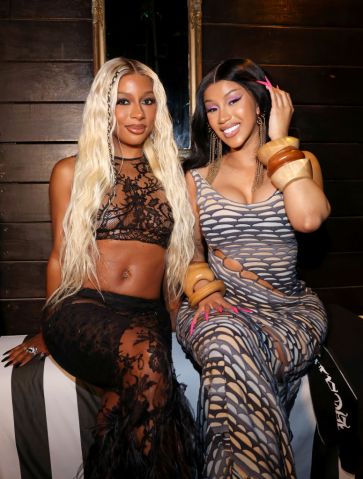 Source:Getty
10. Yes Ma'am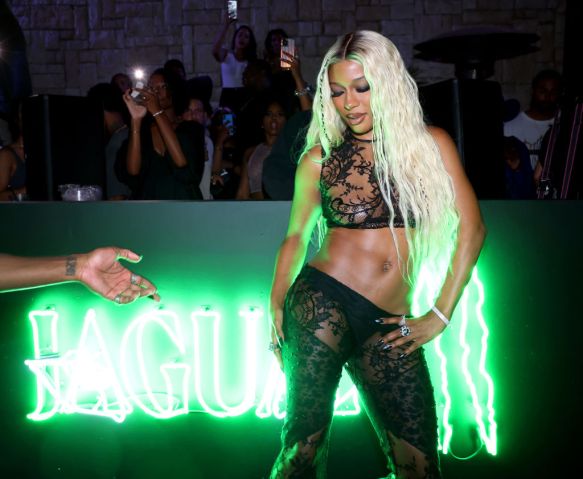 Source:Getty
11. Jonica Booth Stopped By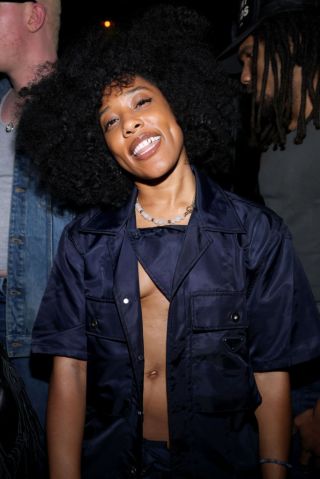 Source:Getty
12. Lucky Daye Celebrating With Monét


Source:Getty
13. Pour It Up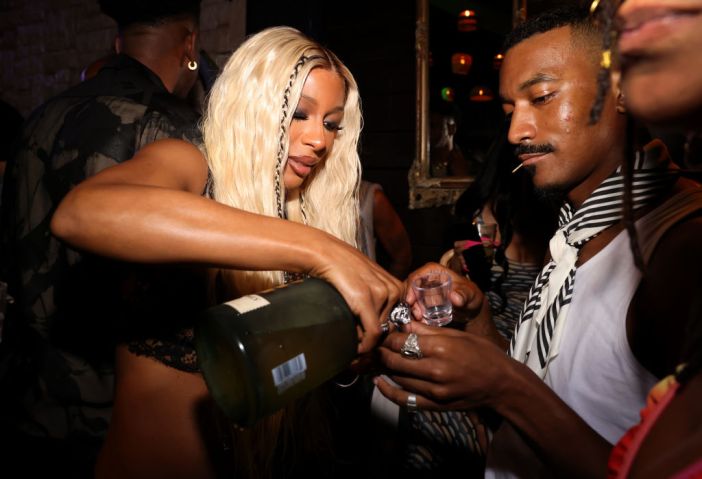 Source:Getty
14. Tank Had To Support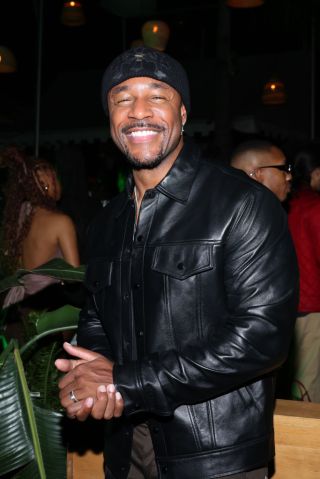 Source:Getty
15. Tank & JoJo


Source:Getty
16. More From Lucky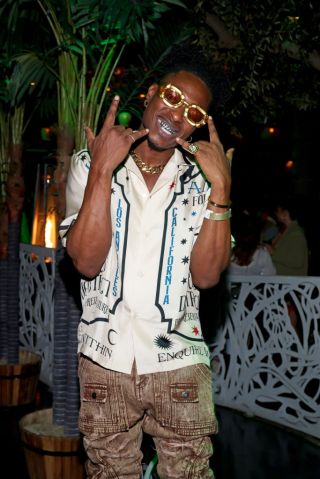 Source:Getty
17. Everyone Came Out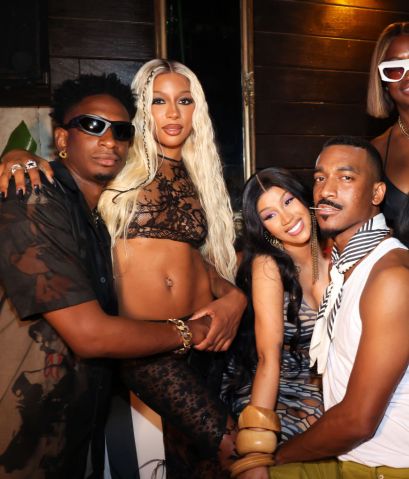 Source:Getty
18. Showing Love & Looks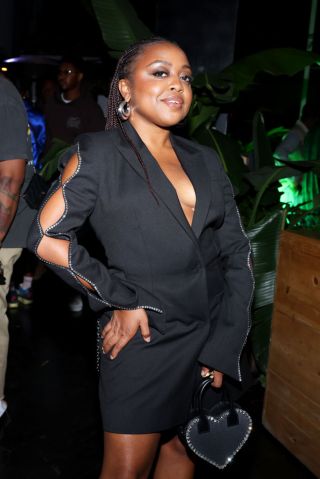 Source:Getty
19. Leon Thomas III Posed For The Camera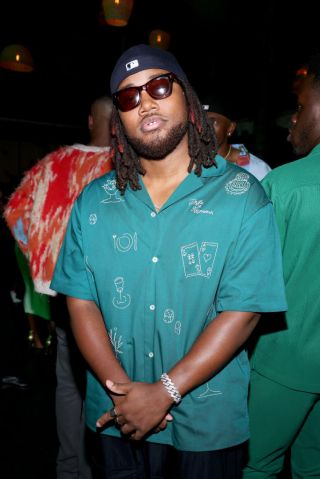 Source:Getty
20. More From The Girlsss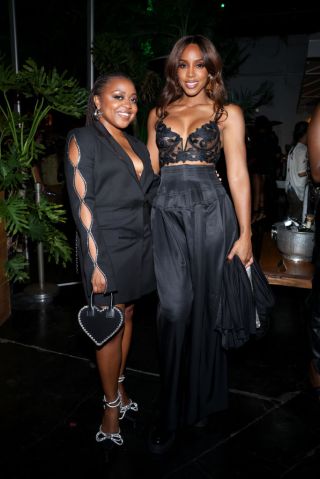 Source:Getty
21. Gorgeous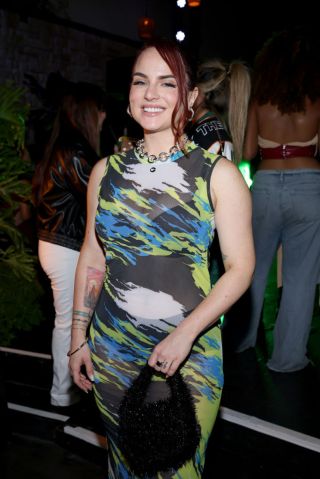 Source:Getty
22. Fin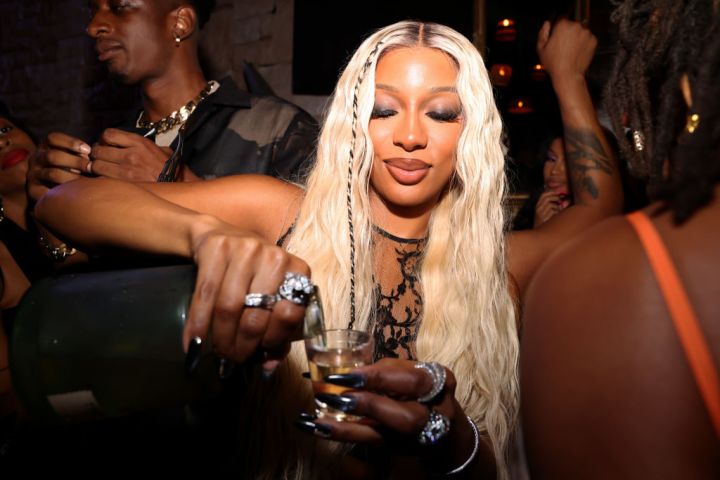 Source:Getty
23. Victoria Monét's 'Jaguar II' Album Release Party Sponsored By Tres Generaciones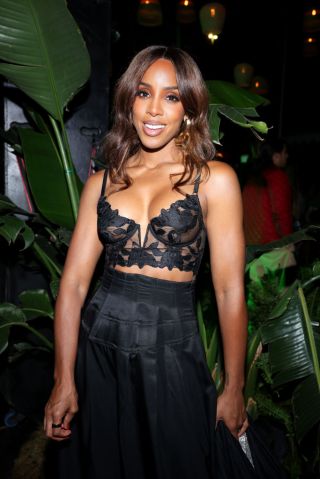 Source:Getty
LOS ANGELES, CALIFORNIA – AUGUST 25: Kelly Rowland attends Victoria Monét's 'Jaguar II' Album Release Party sponsored by Tres Generaciones at La Mesa on August 25, 2023 in Los Angeles, California. (Photo by Natasha Campos/Getty Images for Tres Generaciones) vertical,color image,photography,celebrities,people,one person,arts culture and entertainment,attending,party – social event,usa,looking at camera,smiling,california,city of los angeles,sleeveless top,three quarter length,incidental people,kelly rowland,top – garment,sponsor,make-up,lace – textile,bra top,sleeveless,black color
24. Victoria Monét's 'Jaguar II' Album Release Party Sponsored By Tres Generaciones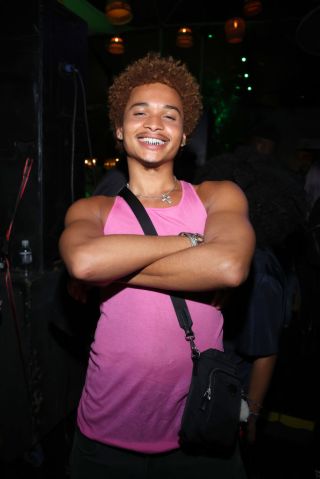 Source:Getty
LOS ANGELES, CALIFORNIA – AUGUST 25: Destin Conrad attends Victoria Monét's 'Jaguar II' Album Release Party sponsored by Tres Generaciones at La Mesa on August 25, 2023 in Los Angeles, California. (Photo by Natasha Campos/Getty Images for Tres Generaciones) vertical,color image,photography,arts culture and entertainment,attending,party – social event,usa,california,city of los angeles,sponsor
25. Victoria Monét's 'Jaguar II' Album Release Party Sponsored By Tres Generaciones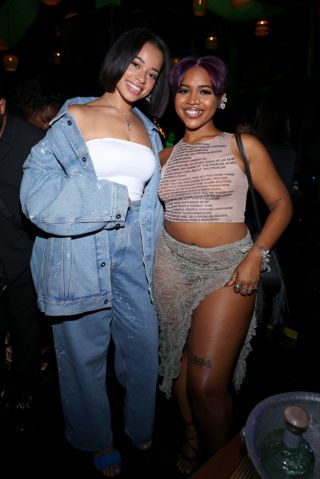 Source:Getty
LOS ANGELES, CALIFORNIA – AUGUST 25: (L-R) Ella Mai and Alex Vaughn attend Victoria Monét's 'Jaguar II' Album Release Party sponsored by Tres Generaciones at La Mesa on August 25, 2023 in Los Angeles, California. (Photo by Natasha Campos/Getty Images for Tres Generaciones) vertical,color image,photography,people,full length,arts culture and entertainment,attending,party – social event,usa,blue,california,city of los angeles,purse,two people,sleeveless top,casual clothing,silver colored,necklace,jeans,leather,top – garment,pants,jacket,shiny,sponsor,shoulder bag,denim,mid calf length,sheer fabric,lace – textile,denim jacket,skirt,graphic print,black purse,gray skirt,blue jacket,blue pants,silver purse,mini bag,lace skirt,sleeveless,white color,black color,midi skirt,slit – clothing,ella mai,coat – garment,leather purse,gray color
26. Victoria Monét's 'Jaguar II' Album Release Party Sponsored By Tres Generaciones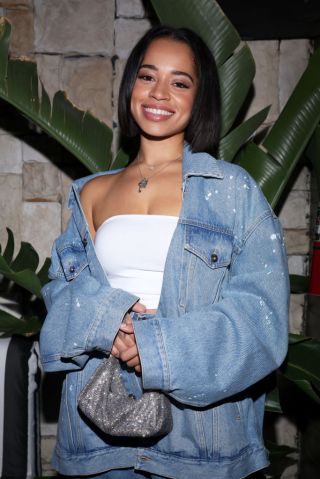 Source:Getty
LOS ANGELES, CALIFORNIA – AUGUST 25: Ella Mai attends Victoria Monét's 'Jaguar II' Album Release Party sponsored by Tres Generaciones at La Mesa on August 25, 2023 in Los Angeles, California. (Photo by Natasha Campos/Getty Images for Tres Generaciones)
27. Victoria Monét's 'Jaguar II' Album Release Party Sponsored By Tres Generaciones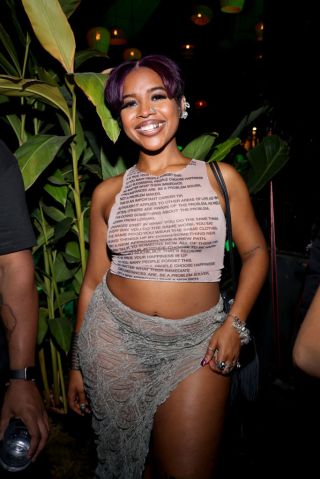 Source:Getty
LOS ANGELES, CALIFORNIA – AUGUST 25: Alex Vaughn attends Victoria Monét's 'Jaguar II' Album Release Party sponsored by Tres Generaciones at La Mesa on August 25, 2023 in Los Angeles, California. (Photo by Natasha Campos/Getty Images for Tres Generaciones) vertical,color image,photography,arts culture and entertainment,attending,party – social event,usa,california,city of los angeles,purse,sleeveless top,leather,top – garment,sponsor,shoulder bag,sheer fabric,lace – textile,skirt,graphic print,black purse,gray skirt,lace skirt,sleeveless,black color,slit – clothing,leather purse,gray color
28. Victoria Monét's 'Jaguar II' Album Release Party Sponsored By Tres Generaciones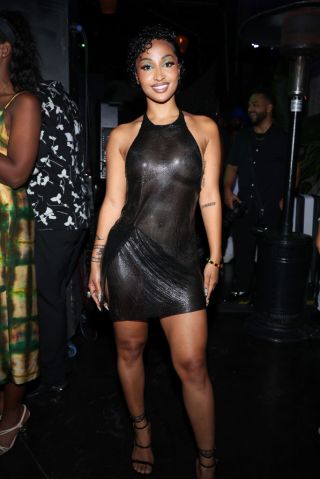 Source:Getty
LOS ANGELES, CALIFORNIA – AUGUST 25: Shenseea attends Victoria Monét's 'Jaguar II' Album Release Party sponsored by Tres Generaciones at La Mesa on August 25, 2023 in Los Angeles, California. (Photo by Natasha Campos/Getty Images for Tres Generaciones) vertical,color image,photography,people,full length,one person,embellishment,arts culture and entertainment,attending,party – social event,usa,looking at camera,smiling,california,city of los angeles,dress,bracelet,incidental people,shoe,mini dress,halter top,leather,black dress,high heels,shiny,sponsor,open toe,sleeveless dress,black shoe,embellished dress,leather shoe,sleeveless,black color,shenseea
29. Victoria Monét's 'Jaguar II' Album Release Party Sponsored By Tres Generaciones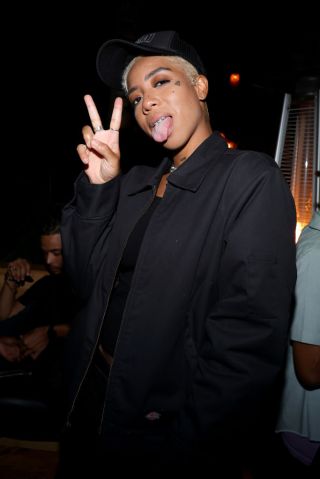 Source:Getty
LOS ANGELES, CALIFORNIA – AUGUST 25: Khadi Don attends Victoria Monét's 'Jaguar II' Album Release Party sponsored by Tres Generaciones at La Mesa on August 25, 2023 in Los Angeles, California. (Photo by Natasha Campos/Getty Images for Tres Generaciones) vertical,color image,photography,arts culture and entertainment,attending,party – social event,usa,california,city of los angeles,sponsor
30. Victoria Monét's 'Jaguar II' Album Release Party Sponsored By Tres Generaciones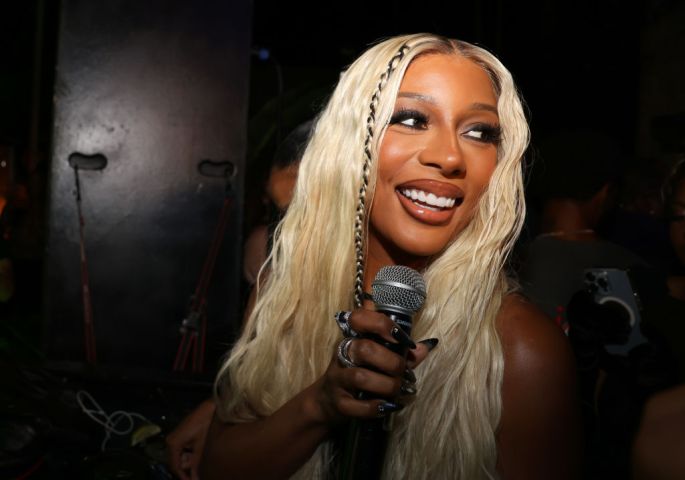 Source:Getty
LOS ANGELES, CALIFORNIA – AUGUST 25: Victoria Monét attends Victoria Monét's 'Jaguar II' Album Release Party sponsored by Tres Generaciones at La Mesa on August 25, 2023 in Los Angeles, California. (Photo by Natasha Campos/Getty Images for Tres Generaciones) color image,photography,arts culture and entertainment,attending,horizontal,party – social event,usa,topix,california,city of los angeles,sponsor